Would you like to spend a night in Paris? Have you ever discovered the aphrodisiac power of Proust and Balzac? How inspiring can a painting by Chagall be?
Are you looking for an elegant, delicate and unforgettable oneshot?
If so, go read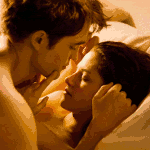 Summary:
"Edward and Bella spend an evening in the shadow of the Eiffel Tower. He has a black turtleneck. She has a copy of Balzac. A side-shot future take from "The Ice Queen and Mister McCarty."
If you read this fanfic, please don't forget to tell the author that "Raum sent you" and say "Ciao!" from me! Thanks!